We're all consumers, and our experiences with the brands we try, trust, and return to can offer insights into our own prospects and customers.
What are you most likely to rely on when you need a local product or service—pest control, an electrician, a maintenance person, or even healthcare services? A recommendation from a non-biased third party or a business' own paid ads?
The Power of Third-Party Recommendations
Third-party recommendations rule in marketing, whether we're talking traditional or digital. That's arguably even more true on a local level.
Online, organic search represents a third-party endorsement of a website. Organic listings are earned, not paid for, so customers generally trust organic listings more. Consequently, organic listings get far more clicks.
Whether you're focused on SEO for a franchised organization, a dealer network, or company-owned stores, maintaining visibility in organic search is the most efficient cost of acquisition for your local sites.
Do a search for any of the types of local products or services mentioned previously and "near me" and note which local businesses appear in the top spot. These businesses have taken all the right steps to optimize their websites for organic search. Their local SEO maturity is high.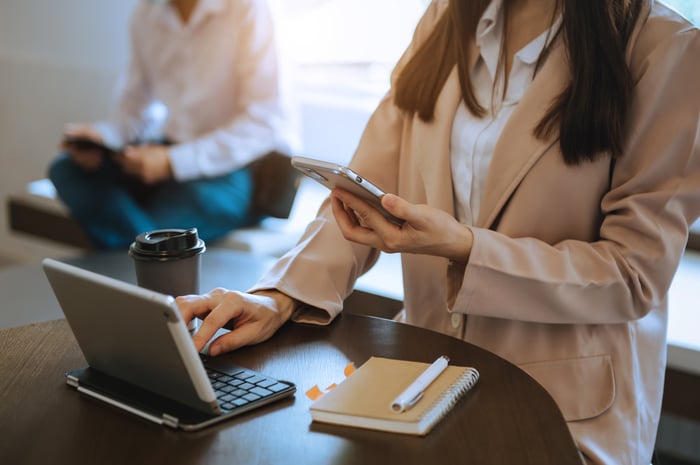 Why Organic Visibility is So Important for Multi-Location Businesses
SEO maturity doesn't happen overnight. In fact, what we observe with the brands we work with is that they tend to go through a series of stages as they become progressively more mature, more efficient, and more effective in their local SEO practices. Of course, the further they move along that maturity curve, the more time and effort is required. That's where we come in (but more about that later).
The term "organic search" was originally coined for Google Analytics to indicate the channel of unpaid traffic leading searchers to a website. It still means that today, but it's also used interchangeably with search engine optimization (SEO) as an umbrella term for the entire organic search strategy. It's a strategy that is fundamentally concerned with ensuring that people searching for the products and services you offer in areas you service are finding you as an option.
There is often confusion between Google "Map Pack" listings and regular organic search result listings found on a search engine results page (SERP). An optimized Google Business Profile listing is only a small part of organic search. Google map listing algorithms are heavily weighted based on a business' proximity to the searcher as well as the intent and relevance of the search query. Organic listings, of course, are based on many of the same criteria, but they aren't nearly as weighted towards proximity and are generally more relevant to an entire market area. This gives local businesses an opportunity to be found across a wider area that they service and for many more search terms than with Google "Map Pack" results alone.
Another thing to consider is the fact that Google "Map Pack" listings are only triggered for a small subset of searches related to a given topic and many users will bypass them in favor of the regular SERP listings. Our data shows that in a mature local SEO program more than 70% of organic traffic and around 50% of organic derived leads come from regular organic listings. This underscores the fact that focusing on both Google "Map Pack" and regular organic results is essential to maximizing your share of local organic visibility.


Fact: 93% of all web traffic comes from search engines; 70-80% of search engine users only focus on organic results.
The Importance of Developing Local SEO Maturity
The SEO strategies that national brands use are radically different from the strategies multi-location businesses need to optimize at the local level--at the brand level SEO is focused on general search terms that aren't location-specific. Being found on a national level still matters—Pella Windows is obviously interested in the strength of its national brand. But, for local dealers or franchisees, it's all about serving the local market. When they're searching for replacement windows, they're looking for local providers.
Google planned for this a long time ago. They're all about providing the best possible results for their customers. Their search algorithms are smart enough (and mobile device technology is mature enough) to know when and where people are looking at product and service categories delivered locally. They give significant preference to local businesses in search results because they know that they are relevant to the local market and that's what their customers want.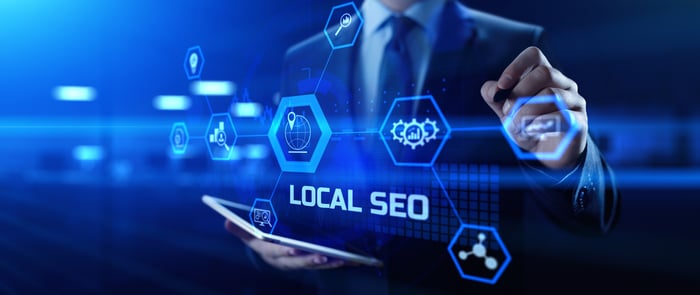 Local Search Data Points You Should Know
There's solid data to back up the importance of focusing on local organic search as a core part of your marketing strategy:
Even Google—the company that makes about 85% of its revenue from paid media—has openly acknowledged that organic search is five times more valuable than Google Ads.
As your SEO performance continues to grow and you achieve higher ranking for more terms and geographies, your cost for organic traffic and leads continues to decrease. You'll pay less to own your top positions. And you'll be paying a lot less than you would for paid search. Our average client with a mature local SEO program generates leads at a cost between 90-97% less than they would through paid search.


Need to Know: Organic listings have staying power, unlike ads. When your search ad budget runs out, you are no longer visible to searchers but organic listings are always there. Own your local visibility—don't rent it via paid ads.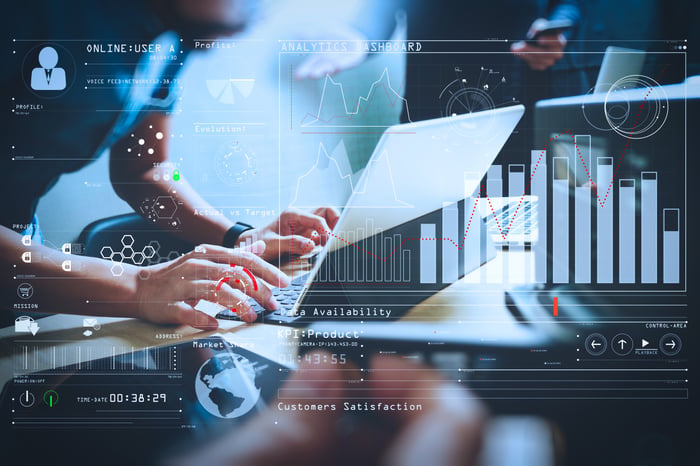 Monitoring Your SEO Performance
When it comes to organic search and ensuring that your desired terms are ranking well, you can't use a "set it and forget it" approach. The search environment changes both in terms of what people are searching for and the competitive landscape.
Fortunately, some tools allow you to monitor and track your performance—and your competitors. Some of these include Moz, Ahrefs, SEMrush, and Google Keyword Planner; there are many others. They play a critical role in helping you understand the local search landscape for your locations, franchisees, dealers, or other types of local representation of your brand.
From a local search perspective, there are two things you'll need to consider:
Relevant keywords you want to be found for

Primary and secondary markets associated with each location, including any alternative geographical or colloquial names searchers might use (e.g., Tri-state area, names of suburbs in metro areas, etc.)
There also are various keyword types to consider in this process that represent common ways consumers would look for the various types of products and services that you offer. These include:
Short tail keywords (HVAC repair)

Long tail keywords (is my AC broken?)

Primary geography (Denver HVAC service)

Secondary geography (Arvada HVAC service)

Information (How can I tell if my AC is broken?)

Transactional (HVAC repair service in my area)
Once you've identified the keywords you want to rank for, you can use tools like those we've mentioned to run ranking reports that will tell you exactly how you are performing in each of your local markets. And you can run reports to tell you how your competitors are doing for those keywords—and gain insights into other keywords they're ranking for that you may want to consider. Keep in mind that it is important to look at your keyword ranking performance from the perspective of the local market you are targeting because Google's search results will be much different if the searcher is in the local market vs. outside the local market. There are many tools that allow you to tell Google "where" you are searching from so that the search results you are reporting on in each local market are similar to what someone in the local market will see when they do the same type of search.
These initial reports will give you a baseline that you can use to establish goals for improving traffic growth. [NOTE: To aggregate your data analysis for each keyword and each market, you can use our free report template].


Need to Know: While tools exist to help you do the analysis and report generation required to monitor SEO performance, there are often steep learning curves required and frequent changes that require relearning the steps you need to prepare and analyze reports.

Of course, as you're probably already beginning to see, getting to this point can require a lot of work, and a lot of knowledge that you simply may not have. There's a cost for investing your time and effort in gaining this knowledge and ramping up your organic search traffic.
There are also some common missteps that we tend to see among our prospects and clients—and misconceptions related to exactly what SEO is, what steps they need to take to improve their SEO, and how to do it.
We think about this process from the perspective of an SEO maturity curve for optimizing local organic search results.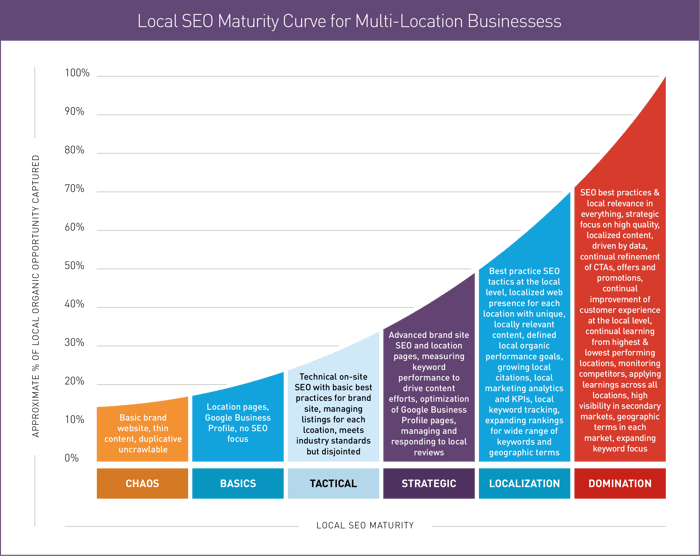 The Local SEO Maturity Curve: Stages Along Your Pathway to Success
As multi-brand marketers set out to optimize their locations/markets for local search, they tend to go through a series of efforts from covering the basics to becoming increasingly more sophisticated—and more effective—in their efforts. These include:
Stage Zero - Chaos

Stage One - Basics

Stage Two - Tactical

Stage Three - Strategic

Stage Four - Localization

Stage Five - Domination
Here we look at each of these, their relevance, and their impact.


Stage Zero - Chaos
This stage is so primitive we shouldn't even call it a stage! There will be a basic website presence with little thought for modern SEO or best practices. While you may list your locations through a search mechanism or listing page, this has little local value. It represents thin, duplicative, or uncrawlable content.
It's only a beginning, reflecting the maturity curve's starting point.


Stage One - Basics
Companies at this first stage are generally newer multi-location businesses or existing businesses new to having multiple locations. They recognize that they need to support local marketing.
Maybe it's a single-location business expanding to new markets in close geographic proximity or a new franchise that is just starting to grow and add new locations. They may have done a solid job of marketing at the corporate level. But, as they expand, they don't fully understand how to replicate that success in new local markets—especially when it comes to digital marketing.
Their first step: setting up location pages on their existing corporate website to show they have a presence in that market and creating a Google Business Profile (GBP) for their new locations. But this is just a starting point.


Need to Know: Having a Google Business Profile does not ensure anyone will actually see your listing. Google may share your listing to showcase your local business when people do searches that their algorithms determine have local intent. Or they may not. While it is important to set up a GBP, it is not sufficient SEO.

Many businesses in this stage may also replicate some of the advertising and direct outreach they have used successfully online and offline to enter a new market. This may include spending on digital advertising, usually through Google and Facebook. Digital advertising, though, can be expensive and, as we've already seen, deliver significantly lower results than effective SEO.
Typically, these businesses will have an incredibly low to non-existent local relevance and local search visibility in the new markets they're entering both for Google "Map Pack" (aka Google Local Pack)—a group of local business listings in that area in search results—and for organic search. Chances are they're only being found in searches for their specific brand name or a handful of high level terms when few competitors exist within the market that the query is being performed from.
They're beginning to realize that they need to expend extra effort to get traction at a local level.


Stage Two - Tactical
At this stage, multi-location brands are beginning to feel the pinch from local representatives pleading for more leads and business growth and the pain of poor organic visibility in their local markets.
They're focusing more on SEO—but at a corporate, not local, level. They're beginning to recognize the importance of content but, again, not at the local level. Their efforts, though, are sporadic, inconsistent, and ineffective.
That's not to say that they're totally ignoring local needs. At this stage they've likely created location pages for local sites, but they're little more than location address, contact information, a map, and directions—and maybe some product and service content in the form of boilerplate copy used at all locations.
Local reps or management, frustrated with the lack of results, may be dabbling in their own efforts, running the risk of undermining the brand and sending disjointed and inconsistent messages to their markets.
At this stage, both corporate and local sites are doing things, but in a "try this, try that" tactical mode with no strategic cohesion between these efforts. The result: some visibility for national and local brand-related searches, but limited organic visibility at the local level for non-branded keyword searches.
The multi-location marketing team is beginning to recognize that they need a strategy at the corporate level.


Stage Three - Strategic
As the business grows, so does the corporate marketing team—and demands from local reps for better local marketing efforts. They're getting the message but are still primarily focused on efforts at the corporate level.
It's only a beginning, reflecting the maturity curve's starting point.
They're putting marketing analytics in place across all locations—beginning to track more organic keywords and local digital ad performance.

They're focusing on creating better content assets at the corporate level.

They're exploring how to localize their marketing more effectively and efficiently.

They're focusing on optimizing Google local listings for more visibility in local search.

They're beginning to implement local reputation management tools to gain more reviews.

And they're implementing more sophisticated digital advertising programs at the local level.
Yet, despite these efforts, they're still frustrated with their results and the effort they're expending for marginal gains. But they're convinced that they're doing the best they can as a multi-location business and believe they need to rely on Google Local Pack and digital ads to drive business at the local level.


Case In Point - Sunburst Shutters:
In our experience in managing local SEO programs for multi-location businesses for over a decade at MarketSnare, this is the most common stage these businesses are in when they engage with us. This is likely because they have harvested all the low-hanging fruit, and they still can't achieve the results they are looking for. A great example of this is Sunburst Shutters.
Sunburst was doing everything they were told were best practices. They had a great website that was well-optimized for their search terms, managed their business listings and reviews, and had well-thought-out landing pages for all their locations. But despite their best efforts, they couldn't get a breakthrough.
Sunburst Shutters was positioned in the top 3 listings of the search results for less than 10% of their key search terms and about 30% on page one of the SERPs (search engine results pages) across all their locations. This is important because over 55% of all organic clicks come from these top three listings. If you are not at least on page one of the SERPs, you are essentially invisible to web searchers. Basically, less than 1% of clicks go to any listing past page one.
They needed to move on to stage four in the maturity curve to take the next step.


Stage Four - Localization
Local businesses providing quality products to the local market are rewarded by Google, Facebook, and other major tech players because that is what the customer is looking for.
That's relatively easy for single-location businesses to do because they have only one website to create content for. It's relatively easy to build local relevance because they can easily talk about their local market in all their content. Google sees these local websites as highly relevant to the local market because all the content on the site talks about the products and services in the local market context. It's a task that gets exponentially more complex for multi-location brands.
Multi-location brands in previous stages of the local SEO maturity curve likely only have had one webpage per location to optimize (unlike local businesses that generally have an entire website with multiple pages) but begin to realize they need to have a full complement of local content to compete at the local level. Many have shied away from taking the local content step because of the sheer volume of work it requires to make all their content unique and relevant to each local market. In addition, they also have the challenge of staying on top of differences between locations, local markets, and seasonality (don't post a winterizing blog in the Miami location in Oct.) that might—and often should—impact their content.
It's a task that absolutely must be done. Localized market websites generate more local organic traffic, more leads, and better conversion rates because more content allows them to rank for exponentially more search terms and Google favors businesses with a high degree of local relevance so they achieve higher rankings across the board. For these reasons, creating content for each of your local markets is critical.


Need to Know: Think about your own search experiences. When you look for a business to provide a local product or service, do you want to be directed to a location page on a large corporate site with boilerplate information? Or a local website with a large amount of fresh, quality content on the topic that is highly relevant to your local market? Most people would choose the local option, hands down. Google is smart enough to understand this and, of course, very focused on providing search results their users prefer.

At this stage, the corporate marketing team looks at each local market as a unique opportunity and implements marketing analytics and keyword tracking for each location. They're:
Identifying keywords for each market based on service offerings, local nomenclature, secondary markets serviced (suburbs and other cities in the service area), and alternate geographic area terms.

Benchmarking and monitoring local competitors.

Comparing locations and identifying outliers.

Creating unique, high quality, locally relevant content that is personalized for the specifics of each location based on local requirements like seasonality, local products and service mix, local regulatory requirements, and other specific local variations.

Staying keenly aware of any underperforming markets and taking specific actions to raise performance to meet local market average.
The corporate multi-location marketing team is beginning to feel on top of their game. They're strategically approaching their marketing outreach at the national and local levels. They're addressing local needs, incorporating reps' concerns, and optimizing and localizing content to drive higher SERP positions and conversion rates.
We've seen businesses achieve page-one positioning across most of their important keywords at this level. That's across all locations, often getting into the top 3 position on many vital keywords and improving conversion rates by upwards of 30% compared to local traffic being sent to their corporate website.
They're approaching local market domination!


Case In Point - Sunburst Shutters continued:
Everything changed when Sunburst Shutters took the next step in their local SEO maturation. But getting them there was challenging. Their CMO was a researcher, and when presented with the strategy of developing unique, locally relevant content, he immediately did what many of us would do…search the Internet and talk to SEO professionals. The problem with this approach is that there is a ton of misinformation on the web (shocking!) and a general lack of experience in local SEO for multi-location businesses for the vast majority of SEO analysts.
While Google gives solid clues as to what they are rewarding, they never come right out and say exactly what you should do, leaving rampant speculation in the industry. Many self-proclaimed "SEO experts" can only speak to the strategies they have implemented, which are highly biased to their capabilities and experience. It is rare to find those who have actually implemented the strategies we implement across thousands of websites with data to compare and contrast the results. The truth is, without technology like MarketSnare, it is a herculean effort to create unique, locally relevant content at scale, so most of these "experts" have never actually done it, mostly because it was too much work.
Sunburst was also concerned that implementing local content would cannibalize organic traffic from their corporate website to their local market websites, leaving little net new gains. This couldn't be further from the truth. In fact, the opposite is true!
As you build authority locally across all your markets, you create authority for your national brand and dramatically improve organic visibility across all your digital properties. Eventually, Sunburst trusted our data and moved into stage 4 of the local SEO maturity curve. The results were a game changer for their organization.
Over the first 18 months of implementation, Sunburst:
More than doubled its organic website traffic on its corporate website

Exponentially increased organic traffic at the local level, leading to 300% gains in lead production

Reduced their cost per lead by over 60%.
But they weren't done yet.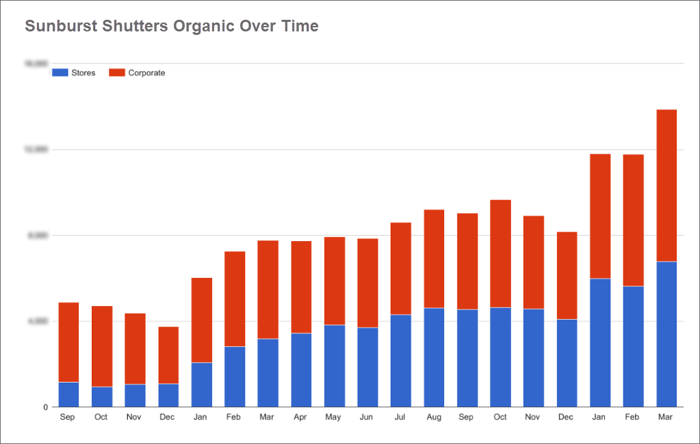 Stage Five - Domination
It's been a lot of work, a lot of experimentation, and, frankly, a lot of failures. Those failures have led to insights that have been worth their weight in gold.
At this stage, marketers are strategically focused on high-quality, localized content that adds value to customers. They're improving their conversion rates by using CTAs, offers, and promotions. They're testing and refining customer experiences at the local level and refining and creatively applying lessons learned in each market. They're adjusting their focus more, broadening to encompass secondary markets and alternate geographic terms of each primary market and leveraging analytics data across all locations to refine programs, fix problems, and roll out successes.
At this stage, the multi-location marketing team has achieved local marketing success by going all in on leveraging organic visibility across all local markets. Thinking strategically about local visibility and conversion has become part of their culture. Their marketing programs are a strong differentiator for growing their local network, and they're poised to replicate those programs as the business grows and expands into new markets.
They're dominating the local search market across a wide range of search terms and geographies serviced from each location. They're dominating Google Local and organic listings. The team gets excited about things like taking up multiple positions atop the search engine results pages and bumping their competitors off of page one.
They have SEO swagger. They have arrived!
This is the highest level of maturity, and, while it also offers the highest level of potential results, it requires the highest level of time, commitment, and expertise—often in short supply.


Case In Point - Sunburst Shutters continued:
This leads us to the final chapter in our Sunburst Shutter example. As we saw, Sunburst entered the fourth stage of the maturity curve with great results, but they didn't stop there.
Now that they had a taste of success and the local SEO breakthrough they were looking for, they wanted to reinforce results. They started thinking about local SEO in all their marketing efforts and how they could repurpose every asset they created at the local level. They began using data across all their markets to better understand their local customers, improve conversions, make more effective promotions and maximize the return on each lead. They looked for new ways to create a better customer experience, better tools, and even more local relevance.
When we engaged with Sunburst Shutters, they were frustrated and stuck at stage 3 of the local SEO maturity curve. They started with less than 10% of their essential keywords in the top 3 SERP positions, with only a 30% representation on page one.
As they matured into stage 5 they achieved over 77% of their search terms (100+) in the top 3 SERP position and nearly 95% of their target search terms on page one.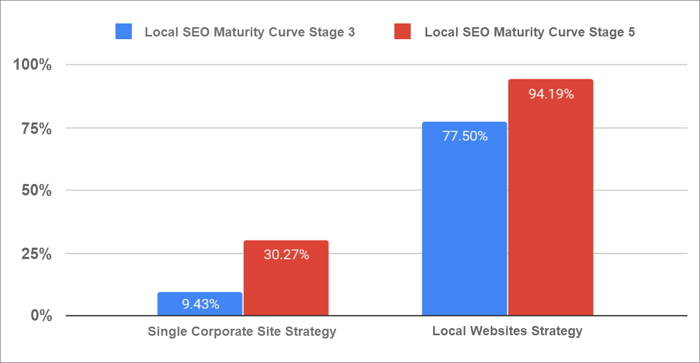 Sunburst Shutters' local SEO program ushered in an incredible run for the company. They continued to see their leads grow by double-digit and even triple-digits for several consecutive years with record-setting revenue growth. The program was so successful that Sunburst Shutters CMO John Barnes was invited to present the strategy to other CMOs at a national CMO Summit event.


Need to Know: The single most important factor in local search visibility is fresh, high-quality, locally relevant content for each local web presence.

From Google's own Affiliate Programs Quality Guidelines:


"Pure affiliate sites consisting of content that appears in many other places on the web are highly unlikely to perform well in Google search results and may be negatively perceived by search engines. Unique, relevant content provides value to users and distinguishes your site from other affiliates, making it more likely to rank well in Google search results."

So how can you make your way from local pages to fully optimized unique local content at scale?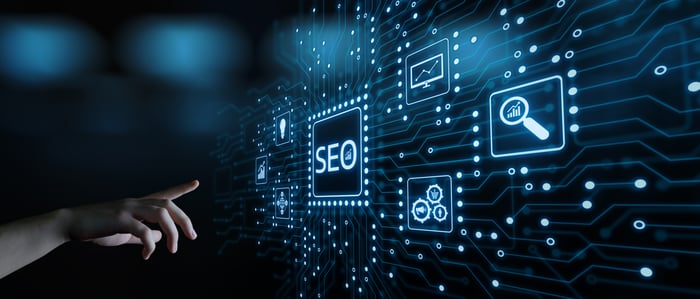 The Next Steps in Your Maturity Curve Journey
There is likely significant opportunity for you to capture more local organic search across your local markets. As a first step, we would recommend doing some work to understand how you are currently performing and what the upside revenue opportunity is for growth. From there, evaluate your options and create a plan to capture as much of that opportunity as possible.
The localization of your content assets involves making each page of web content unique and locally relevant for each location. It also includes the ongoing creation of unique, high-quality, locally relevant content for each location. In addition, once created it's critical to continually monitor and refine each local web presence to ensure maximum performance. Creating and managing this volume of content can be a major burden and is where most multi-location marketers fail.
As you can imagine, it is often a daunting and overwhelming task that could take an army of people to execute--and cost a lot of money. At this point, many marketers believe they don't have the time, people, or budget to achieve this level of maturity, and settle for less. Many come to the conclusion that the creation and ongoing maintenance of a true local content strategy are out of reach.
Fortunately, the universe of tools to help multi-location businesses manage local marketing has grown significantly over the past few years.
Unfortunately, they don't always provide the entire spectrum of solutions and services you need to succeed. These tools mostly focus on tactical, local SEO tasks, including keyword rank data tracking, business listings management, review management, and social posting. When considering these tools, it's essential to look for specific multi-location functionality that offers the ability to:
Support a multi-location hierarchy from a single central portal.

Have user permissions allowing for managing access to information for the needs of various roles such as corporate marketers, regional managers, and local reps.

Execute tasks on a one-to-many level while also being able to make changes to individual locations.

The ability to publish content across your network in a way that is unique, relevant to the local market, and personalized for the individual location.

Review and approve workflows.

Lock down content, branding, and legal compliance content requirements so this content can't be changed by local reps.

Allow local reps to review local marketing performance dashboards.

Roll-up reporting so corporate marketers and executives can see marketing performance across the entire enterprise, with custom groups based on locations, geography, services offerings, etc.
While many of these tools can provide value in their ability to create tactical efficiencies in their specific area, they fail to deliver the robust performance you need at the local level. Specifically, what's reflected at the final phases of the maturity curve journey—creating unique, continually updated, localized content for each of your locations to drive search traffic.


The bottom line: Google sees beyond basic techniques to rank for local search. They are comparing your locations to other local businesses that often better meet the requirements they are looking to reward.

Unfortunately, continually managing SEO optimization requires ongoing time, attention, dedication, and expertise. That requires:
Ongoing review of the performance of each of your local sites

Regular analysis of your local sites' competition

Strategic content development efforts and creative ways to make it unique and relevant at the local level

Proactive action on and testing of search terms that can yield new opportunities for local sites

Monitoring search industry trends and taking advantage of new features and algorithm updates through local onsite and offsite optimizations

Actively monitoring conversion rates and continually working to improve new calls to action, offers, content, and better user experiences.

Reducing dependence on digital ads to lower overall costs per lead

Leveraging new tools and tactics to continue to make systems more efficient and effective
All of this effort must be maintained while simultaneously managing the other operational demands of marketing your business at the national level. As your organization continues to grow, it is critical to roll out your local program in new markets for new locations efficiently while quickly achieving the same level of results you have in more mature markets.
We know. It's not easy. Or, in many cases, even possible for those on the front lines or corporate marketing teams.
That's why we created MarketSnare. MarketSnare helps our clients maximize localization through unique, high-quality, localized content that ranks well and converts across all of your local markets, franchises, locations, agents, or branches.
We help you get a high volume of unique, locally relevant content flowing by repurposing your corporate content assets at the local level. This is the key ingredient to build local relevance and rise up in local rankings across many more search terms and geographies across all of your local markets.
We also actively monitor local SEO tactics and performance across more than 30,000 local markets we manage for clients, and use those insights to continually refine on- and off-site SEO best practices across all your local web presences, whether through a sub-directory, sub-domain, or standalone domain approach.
You'll benefit from a robust platform to manage your localized content and SEO efforts at scale including one-to-many publishing, local and program-wide marketing performance analytics, and turnkey management of all necessary technology and support.
We make it easy and effective with very little extra work required on your part.
When moving from local SEO maturity stage 3 or lower into stage 4 or higher, our clients typically see around 300% growth in organic traffic and leads within 12-18 months, with steady double and triple-digit gains year-over-year for many years to come. We help you grow your local market share while reducing your cost per lead. Whatever stage you're at, we'll work with you to move you along the SEO maturity curve to reach Stage Five--local market domination.
The MarketSnare platform empowers marketers to create effective local marketing programs and implement them at scale across tens, hundreds, or even thousands of locations. We invite you to learn more by requesting a strategy session.