Local Marketing Solutions for Real Estate Agent Networks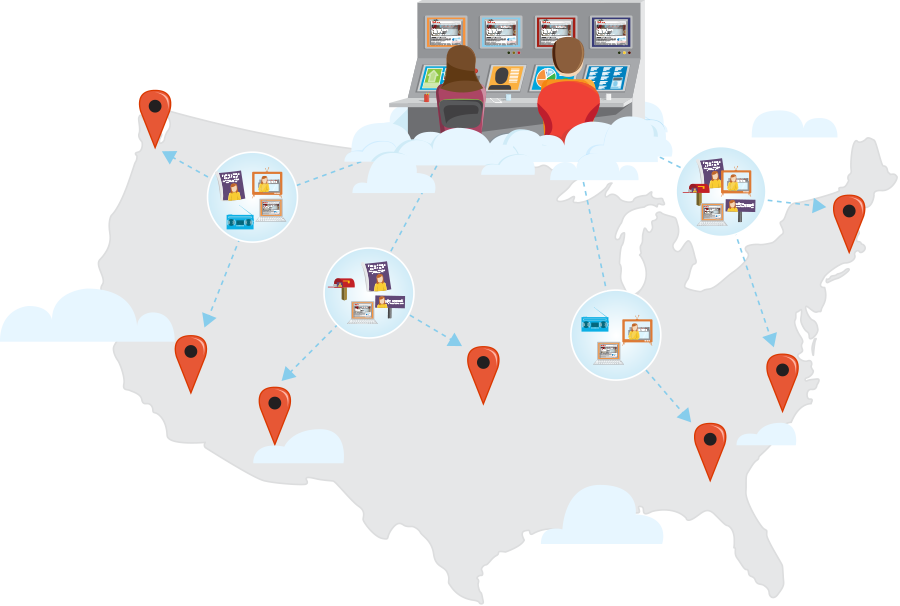 Real estate companies can support the success of their brokers and agents in their local markets with cost effective local marketing programs that produce results.
MarketSnare is a local marketing automation platform that provides the capability for real estate companies to provide scalable local digital marketing programs to their real estate brokers and agents. Imagine the impact you could have on your business if you could provide a turnkey local marketing solution that made it easy for agents to have a successful marketing program that just worked without having to think about it. If every agent's local marketing efforts levered the best practices of the top performing agent programs it would help each agent sell more real estate and have a significant impact on the revenue growth of the company as a whole. That's exactly what MarketSnare can do for you.
MarketSnare makes it easy and economical for real estate companies to deliver local marketing solutions that support their brand and provide their agents with a competitive edge in their local markets through personalized websites, social media, digital advertising, distributed marketing, and more. Now you can leverage your marketing expertise to create programs with best practice tactics that work and personalize them at scale for each of your local brokers or agents so they can take advantage of your expertise at the local level.
If you are in charge of marketing support for your local brokers and agents, MarketSnare puts you in the drivers seat. You no longer have to let each agent figure out local marketing themselves or compromise on the local marketing support you can provide due to the inability to scale the tactics you know will work. With MarketSnare you have the tools to create and localize websites, organic search engine visibility, social media, digital search, display, and social ads, and more across all your broker marketing programs with the same effort as if you were doing it for a single broker.
MarketSnare's proprietary content localization engines gives you the tools to localize and personalize each web page, blog post, social post, and digital ad for each broker like you had an army of content writers working on every local program. This capability empowers you to deliver locally relevant marketing programs that have proven to be produce unheard of marketing results in each local market with great local visibility across digital channels, better conversion rates, and lower overall cost of lead acquisition You can work with MarketSnare to build a successful local broker / agent marketing program that fits your brand's needs and the needs of each local broker / agent including: