Nonprofit Local Chapter and Affiliate Marketing Solutions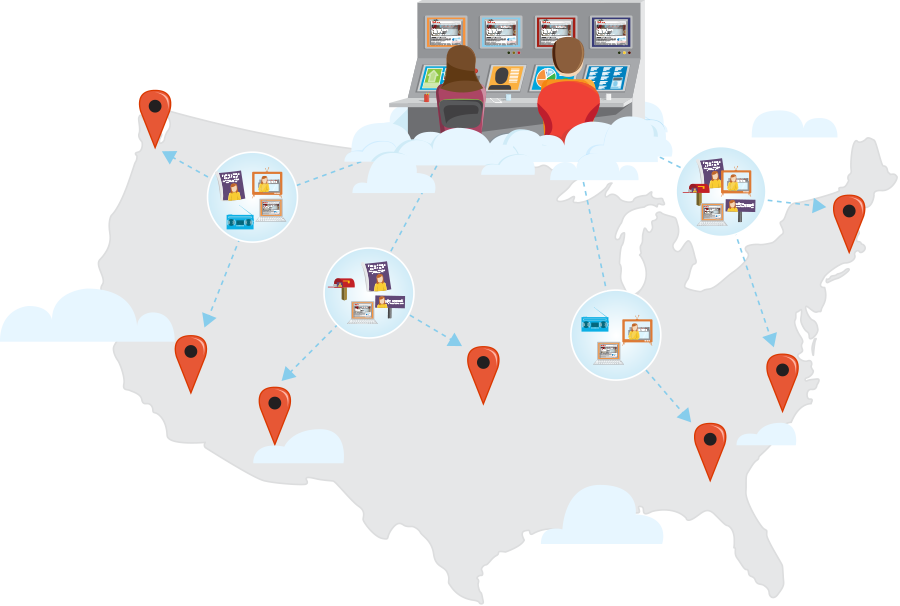 Empower your local non-profit chapters to do more good in their local communities through effective local marketing solutions built for the needs of non-profits.
Great local marketing is not just only for helping for-profit businesses thrive. Nonprofit organization's exist in large part to make their local communities a better place and to help people live better lives. What could be more important than spreading that message to the local community? The challenge for multi-chapter nonprofit organizations is how to best help their local chapters and affiliates leverage the assets of the national nonprofit brand at the local level to stay true to the national brand but make the message relevant to the local community. MarketSnare was created to do just that.
With studies highlighting what we already intuitively know, that over 97% of people use the Internet to find and research just about everything at the local level, there is a tremendous opportunity for nonprofit organizations to improve their marketing and better serve their communities through effective localized digital marketing programs. People are searching for help in specific areas, information on programs you may have available, and talking about issues relevant to your cause on social media. It is critical for nonprofits to be engaged in the conversation at the local level to push their message forward, make more people aware of what they do, provide a professional image, and recruit new volunteers and financial supporters.
Large national nonprofit websites and social media programs do not provide the local visibility or community relevance that builds local marketing success. The challenge for larger nonprofit organizations has been the lack of tools to scale their local marketing efforts efficiently across multiple local markets, chapters, and affiliates in a way that is economical, effective, and compliant. MarketSnare was built to solve these local marketing challenges for non-profit organizations.
MarketSnare is a local marketing automation platform that enables nonprofit organizations to centrally create, deploy, and manage local marketing programs for each of their local markets while maintaining strict control of brand standards, high level messaging, and legal compliance.
With MarketSnare non-profit organizations can now centrally manage content, promotions, social posts, and digital ads across their entire footprint with about the same effort as if they were doing it for a single local chapter. Our proprietary content localization engines allow you to efficiently personalize each web page, blog post, social post, and digital ad with unique, relevant, and valuable information for each chapter or affiliate. You now have the tools you need to deliver powerful marketing programs that get proven results at and affordable price point. With our platform you can select from a range of local marketing solutions to build a program that's perfect for the unique needs of each local market including:

Each local nonprofit chapter web presence is the hub for your local marketing efforts in that community.
Having an effective local presence is what will build visibility for your organization and draw attention to your cause. Without a well conceived local website and supporting digital marketing program for your local chapter, it can feel like you are invisible to people in your community. A nonprofit's local web presence is the foundation of its local marketing efforts. A local web presence is where branding and localized messaging live. It serves as the basis for organic visibility in search engines and it communicates the message of your cause and organizations value to the local community. It also supports all other marketing tactics being used to reach your audience, including traditional media channels and national marketing campaigns.
The issue is that many programs that provide centralized management for local marketing are difficult to use and expensive. With such high prices and complicated programs, these kinds of setups aren't any good for nonprofit organizations. However, MarketSnare is both easy to manage and cost-effective. We have recognized the needs of nonprofit organizations and created a program to meet those needs. MarketSnare offers a range of web presence solutions to meet the various needs of digital marketing from stand alone local sites to microsites to advanced association directory solutions. With MarketSnare you can have a focused presence in multiple communities, making sure your message is getting out to many different people in the way that will work best based on their community.
Speak the local language. What gains support in a big city most likely won't gain the same kind of support from a small town. Connecting with customers about your cause where they live is important! That calls for a local online marketing approach that takes into account such factors as local expressions, culture, climate, economic conditions, and loyalties. A local website can address those factors head on, helping your reach local supporters in more personal ways. This will help them understand why your cause should matter to them. Yes, it's true that consumers use the web to research global companies. But, when they can, they still prefer to support the nonprofits close to home.
Establish a hub for local marketing. National or regional marketing efforts get a real boost from local "hometown" tie-ins. Being able to tag your TV and radio spots, print ads, billboards, and direct mailers with a local website gives you instant local credibility. Such a site also lets you track the effectiveness of every campaign element in the market. Equally important, driving potential donors to local events and centers gives them more opportunities to learn more about your organization and your brand's local connection.
Localize SEO. If you're serious about capturing a local market, you can't do better than to have a local website infused with local geographic terms and other such references. This approach personalizes and optimizes a website for local search visibility. In the end, it will make your company far more visible than if you were simply to list your outlets on your corporate website's locator page.
Engage with local social media. You should follow the lead of local businesses, most of whom nowadays have made social media a significant part of their marketing strategy. Engaging supporters and prospects can find you through sites like Facebook and Twitter on your corporate website, this is a great way for them to connect. But adding local social media marketing to the mix – marketing that drives people to a local website – can be much more effective. It's another way to keep the conversation between you and your supporters going. And it certainly strengthens your local presence!
MarketSnare gives you the means to do it!
With MarketSnare you can manage the digital marketing for your entire network of local chapters and affiliates from one hub. Think of it as a centralized turnkey local marketing management system. What it does is give you complete and immediate control over…
maintaining your organization's brand standards,
keeping messaging and content consistent and on point, and
implementing effective local marketing tactics across all of your local chapters.
At the same time, each of your locations will be able have unique content added to its own site. This includes such things as photos, information on upcoming events, news, recaps of past events or fundraisers, ways to connect and support, and other things of local relevance. Keeping this content freshly updated translates into high local search engine rankings, too! Result? Each of your local causes will be highly ranked for a wide range of keywords and geographic terms important to your organization.
Your chapters also get the benefit of localized, corporate-directed marketing programs that promote your organization and your cause, making each chapter more successful. Contact MarketSnare. We'd love to show you just how this program will work for your nonprofit organization.