Local Marketing Solutions for National Brands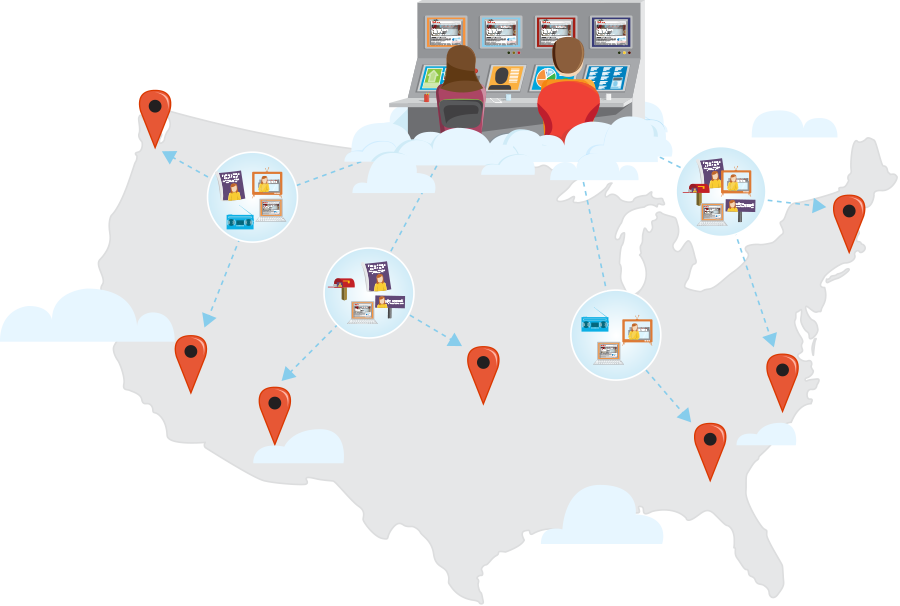 National brands can now realize the full power of local marketing at scale.
MarketSnare is a local marketing automation platform that enables national brands to act like a local business in each of their local markets. With our platform you can centrally create, deploy, and manage local marketing programs for each of your local markets as it was your only market. The MarketSnare platform was developed to address the specific challenges that national brands have in efficiently and cost effectively localizing their marketing programs at a large scale.
MarketSnare puts you in the drivers seat so you can coordinate content, promotions, social posts, and digital ads across tens to thousands of markets with ease. With our content localization engines you can efficiently personalize each web page, blog post, social post, and digital ad with unique, relevant, and valuable information for each location, giving you the tools you need to deliver powerful marketing programs that get proven results. With a MarketSnare national to local marketing solution you can select from a range of local marketing solutions to build a program that's perfect for the unique needs of your brand in each local market including:

Overcome the challenges of local marketing at scale with MarketSnare.
You've spent considerable time, effort, and money building your brand. National marketing campaigns have elevated it in the public's consciousness. And your corporate website continues to solidify the brand loyalty of your customer base. But how effective is that website at driving traffic to each of your local retailers? That's where the action is. That's where your customers interact with you in an intensely personal way. And that's ultimately where your corporate success is determined. So … why wouldn't your brand strategy make provisions for your brand to have a strong local web presence in each of your markets?
A recent study reveals that consumers today – roughly 97% of them – take to the internet to research products and services available where they live. If you have a retailer in their area and that retailer either doesn't have its own website or has one that doesn't well represent you,you're not getting found by consumers seeking a local source for your national brand!
Listing retailers on a page of your corporate website can help, of course. But not much. To establish the kind of local presence that keeps your brand sales soaring, each retailer in each of your markets must have a website that helps them and you…
Speak as the locals speak. Connecting your national brand to every community in the markets you serve calls for your retailers to have local business websites touting your brand in the context of local culture. After all, what gets people talking in Tacoma may provoke only silence in Savannah! If you could ensure that retailers promoted your brand in the language of their local customers, you could engage those customers in a far more personal – and conversionary – conversation! Yes, there will always be plenty of people seeking to buy your brand impersonally online. They're searching from somewhere, though. And that "somewhere" says a lot about who they are, how they live, and what they think is important. Make sure you're talking to them … in terms they'll embrace.
Create a hub for local marketing. No matter how famous your national brand, its continued success depends on how well your national and regional marketing connects local consumers with local retailers. First see that your retailers properly represent you on their local business websites. Then tag your TV and radio spots, print ads, billboards, and direct mailers with those local URLs. Now you have another opportunity to engage your customers directly, right where they live. That gives both you and your retailers instant local credibility. And, because you're driving customers to your retailers' websites, you can better track the effectiveness of your marketing efforts.
Localize SEO. It's true that Google knows the origin of a web search even when the searcher doesn't specify a location. But if you really want to increase local recognition for your national brand and its local retailers, you need localized SEO. That means taking local retailer websites and infusing them with local expressions, geographic terms, cultural references, activities, and so forth. Doing so definitely increases local search visibility – in a way that just listing local retailers on your corporate website can't.
Tap into the power of local social media. More and more brands are including social media in their local marketing strategies. It's another great way they ensure themselves of reaching consumers where consumers are. What about you? It's likely you interface with social media on your corporate website. But surely you see the value of local social media marketing. Directing local consumers to your retail outlets' and local web presence via social media opens up all kinds of new opportunities to keep the conversation going about your national brand!
MarketSnare is just the way to do it!
With MarketSnare you get a centralized turnkey content management system that lets you easily, effectively, and affordably…
manage the digital marketing of your national brand across all your local markets
ensure the consistency of your brand message in every market,
maintain your brand standards network-wide, and
coordinate promotions for national and regional campaigns.
Contact MarketSnare and let us show you how our program can do that for your national brand.