Local Marketing Solutions for Manufacturer Dealer or Distributor Networks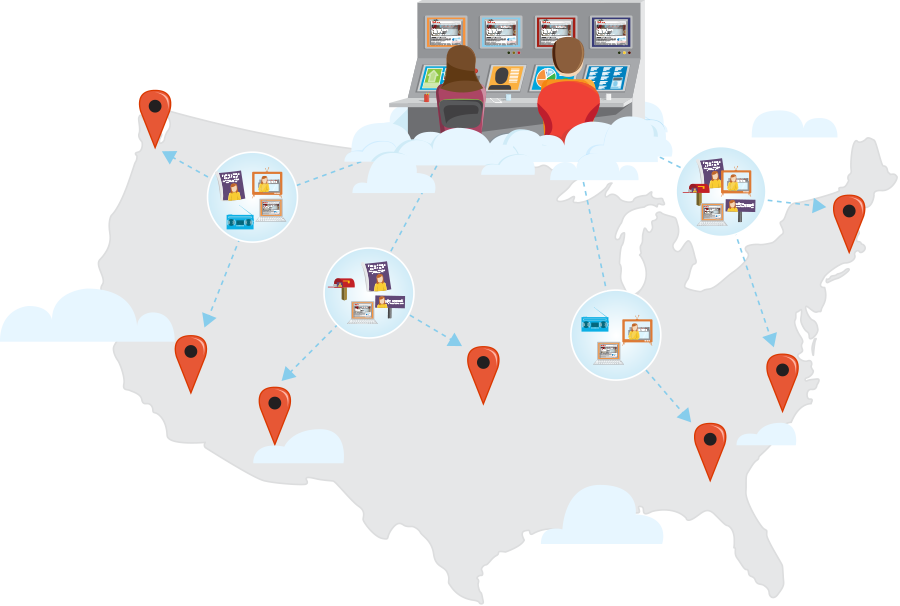 Support your dealers and your brand with highly effective, scalable local marketing programs.
If you are a manufacturer with a dealer / distributor network or other multi-location business model, implementing great marketing at the local level can be a challenge, especially in today's digital marketing era. Gone are the days when you could simply print flyers, mailers, and catalogs to distribute with variable location information. In fact, according to a recent study, most consumers (97%) go online to research products and services available in their respective local markets. And with location enabled mobile devices, Google knows where prospects are searching from. Without effective local marketing solutions your dealers – and you – are missing out. If you're currently not getting found by local consumers searching for the products and services you offer, you have a huge opportunity for growth! Or, perhaps you're seeking more efficient, affordable, & effective local online marketing support for your tens to thousands dealers & local markets!
With a MarketSnare dealer network marketing solution you can create and centrally manage your own local marketing programs with the critical local marketing solutions that your dealers need to successfully market your products in their local market. Create flexible programs that best meet the needs of your network from a wide range of customizable solutions including:

Manufacturers Face Many Local Marketing Challenges
There are several different approaches that manufacturers have taken to overcome the challenges of distributed local marketing, but they typically come down to letting your local dealers handle the marketing with some support or trying to implement local marketing solutions for them. Both of these approaches have their challenges.
There's always a risk in trusting your dealers to represent your company and your brand. They're not employees, after all. They have their own ideas and skill levels when it comes to marketing and they don't always have the same objectives you do. So, even if they are loyal to you, they may not have the time or the knowledge to convey your brand message and product information in accordance with your corporate standards.
The local dealer is often responsible for "the last mile" of the sale and are often left to figure out the local marketing puzzle on their own. This presents a lot of problems for manufactures with tens to thousands of local markets, who are left depending on the local dealer to properly represent the brand and ensure the company's products are front and center with local prospective customers. As you can imagine, giving local marketing responsibility to the dealers provides mixed results with mostly ineffective efforts that result in lots of missed opportunities for the manufacturer.
Some manufacturers attempt to provide programs that are centrally managed, but creating programs are generally too simplistic to be effective or cost prohibitive given the tools and solutions that have been available. MarketSnare has changed this paradigm. We have worked with thousands of manufactures and dealers to understand the needs that exist and develop the technology necessary to solve the most complex problems for dealer network marketing. The marketing results that we have been able to achieve for manufacturers with dealer/distributor networks has been truly game changing for our clients.
The Importance of the Local Dealer Web Presence
You local web presence is the foundation of your your local marketing efforts, giving you a presence in each of your local markets where you send customers for all your inbound and outbound marketing outreach. Your local web presence is where your branding and localized messaging lives. It serves as the base for your organic visibility and your ability to convert traffic into prospective customer leads. It also complements any other marketing tactics you may be using to reach consumers, including local or national marketing campaigns and referrals. MarketSnare offers a range of web presence and digital co-op solutions to meet the various needs of dealer networks digital marketing needs, from robust stand alone local websites to microsites to advanced dealer directory solutions. For success in this, though, each of your dealers must have a web presence that helps them (and you)…
Speak the local language. What sells your product in Poughkeepsie may not be effective in Spokane! You need to connect with customers where they live. That calls for a local online marketing approach that takes into account such factors as local expressions, culture, climate, economic conditions, and loyalties. A local website can address those factors head on, helping your dealers reach local customers in a uniquely personal way. And when consumers can, they still prefer doing business with companies that are part of their own community.
Establish a hub for local marketing. National or regional marketing efforts get a real boost from local "hometown" tie-ins. Being able to tag your TV and radio spots, print ads, billboards, and direct mailers with a dealer's local business website gives you and that dealer instant local credibility. Such a site also lets you track the effectiveness of every campaign element in the dealer's market. Equally important, driving potential customers to a local dealer gives them another opportunity to learn more about your product and your brand's local connection.
Localize SEO. If you're serious about capturing local market share, you can't do better than to have a local dealer website infused with localized content, geographic terms, and other such references. This approach personalizes and optimizes a website for local search visibility. In the end, it will make your company far more visible than if you were simply to list your outlets on your corporate website's dealer locator page. Business locator and directory pages say "Yes, we have a location near you." while local websites and social accounts say "We are here and a part of your community, how may we help you?" you should consider having both.
Engage with local social media. You should follow the lead of local businesses, most of whom nowadays have made social media a significant part of their marketing strategy. Generating awareness, being approachable and helpful, and showing community spirit on social channels like Facebook, Instagram, and Twitter shouldn't be limited to your corporate website. Local social media marketing can drive people to a local dealer website, which can provide a significantly better experience while also being much more effective. It's another way to keep the conversation between you and your customers going. And it certainly strengthens your local presence in each of your markets!
MarketSnare gives you the means to do it!
With MarketSnare you can manage the digital marketing for your entire dealer / distributor network from one hub. Think of it as a centralized turnkey local marketing management system. What it does is give you complete and immediate control over…
maintaining your brand standards,
keeping product information correct, and
ensuring the consistency of your message across all of your dealer websites.
At the same time, each dealership will be able to add content to its own site. This includes such things as photos, descriptions of other products it may carry, dealership news, upcoming event notices, and other items of local relevance. Keeping this content freshly updated translates into high local search engine rankings, too! Result? Each of your dealers will be highly ranked for a wide range of keywords and geographic terms important to your business.
Your dealers also get the benefit of localized, corporate-directed marketing programs that sell your product and help make each dealer more successful. Contact MarketSnare. We'd love to show you just how this program will work for your dealer network.