Local Insurance Agent Websites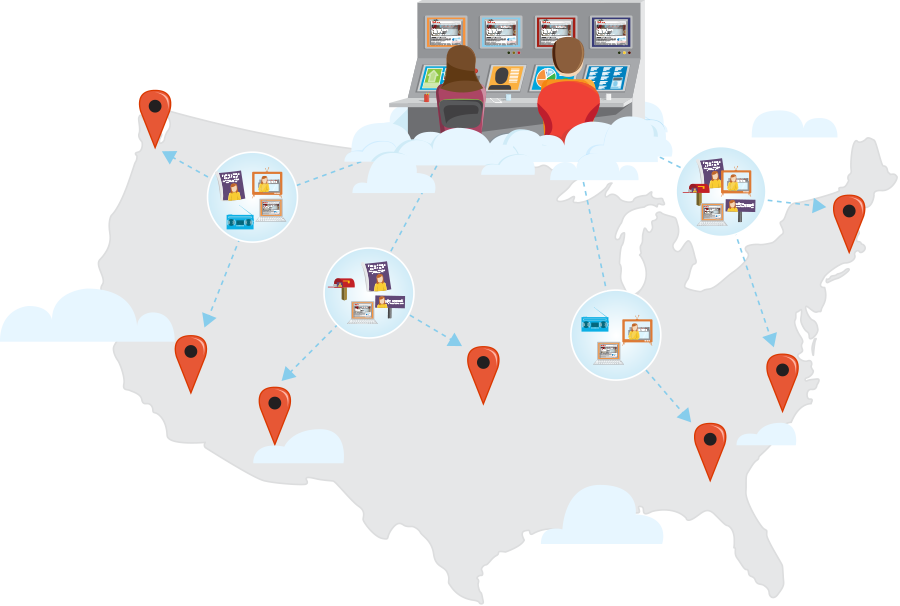 Grow your insurance business in each local market through local insurance agent marketing programs.
MarketSnare is a local marketing automation platform that empowers insurance companies to centrally manage local marketing programs for their agents that are legally compliant, brand consistent, and produce incredible results. The MarketSnare platform was developed to address the specific challenges that insurance companies have in scaling effective local marketing programs across their agent networks. MarketSnare makes it economical and efficient to deliver local marketing solutions that give your agents a competitive edge in their local markets through personalized websites, social media, digital advertising, distributed marketing, and more.
If you are responsible for delivering marketing results for your agent network, either independent or captive agents, MarketSnare puts you in the drivers seat. You no longer have to compromise your local marketing tactics due to compliance concerns, budget, or scale. MarketSnare enables you to coordinate website content, SEO, social posts, digital ads, and more across all your agent marketing programs with the same effort as if you were doing it for a single agent. Our content localization engines allow you to efficiently personalize each web page, blog post, social post, and digital ad for each agent, giving you the ability to deliver powerful marketing programs that get proven results. MarketSnare's marketing solutions for insurance agent networks you can select from a range of local marketing solutions to build a program that fits your company's needs and the needs of each agent including:

Help your agents compete and win in their local markets with effective, scalable local marketing programs.
Local insurance agents are out there in the trenches, connecting with current and prospective customers in every geographic area you serve. You know they know how to sell your product and deliver great customer service. But how good are they at marketing – at promoting your brand, fostering customer loyalty, and broadening your base online? The fact is, they'd be a lot more effective if you were able to provide cost effective local marketing programs that delivered them a steady stream of new opportunities without having to spend the time, resources, and stress trying to figure out how to become an effective digital marketer.
Most of today's consumers – about 97% of them – use the web to research products and services in their local areas, according to a recent study. Unless you have an effective local marketing program in place your agents aren't getting found in their respective areas by customers searching for the insurance products and services you offer. Most of them don't have the time or expertise to manage their local reputation, ensure their business listings are accurate or consistent, or create unique local content that is critical to search engine visibility, and social engagement. That's where MarketSnare can help.
With a MarketSnare local marketing program for insurance agents, you'll help your agents and yourself...
Talk like a local. That's a top reason why local Internet marketing matters. It shows consumers that your agents belong in their respective communities because your agents speak the local language and address local concerns. After all, what works to sell your product in Miami might not earn you a penny in Minneapolis! A local Internet marketing approach ties you into the culture, economy, and social fabric of every market you serve. It helps you build local brand recognition and loyalty. And it gives each of your agents an opportunity to discuss your products directly, personally with their local audience. While it's true that consumers search for products globally, it's also true that they prefer purchasing from local agents whenever they can. A local agent website taps into that desire.
Set up a hub for local marketing. "Hometown" agent websites provide excellent support for your national and regional marketing campaigns. By tagging an agent's local website onto your TV and radio spots, print ads, billboards, and direct mailers, you help create instant local credibility for yourself and that agent. Not only that, but you also get to track the effectiveness of your campaigns in each agent's market. Why? Because you're constantly driving traffic back to your dealers, where conversion is higher and prospects can learn more about your product, your brand, and your local relevance.
Benefit from local SEO strategies. An agent website that's locally optimized will contain a significantly greater number of target keywords for that market and surrounding sub-market areas. Those keywords will include geographic qualifiers that prove to generate higher search-engine rankings. In turn, those rankings will translate into traffic that's not only heavier but also more relevant. You'll get more leads for each market you serve, too. In short, personalizing your individual agent websites optimizes your local search visibility. And it does so far more effectively than simply putting a locator page with a list of your agents on your corporate website.
Engage with local social media. Making local social media a big part of your marketing strategy is a sure-fire way of connecting with your audience and personalizing your customer engagement. Sure, you want Facebook, Twitter, and other such connections on your corporate website. You'll do better, though, by using local social media channels as well to drive people to your local agents' websites. This widens the discussion between you and your base and helps keep you top of mind in every market.
MarketSnare is just the ticket!
A truly revolutionary online marketing platform, MarketSnare is designed to help businesses like yours manage their brand across their entire network of local agent websites. It lets them do this from one central content distribution interface, too. Result? You have a turnkey solution to a common challenge: how to update information quickly, on a regular basis, and enforce brand consistency throughout your agent network.
In helping you do this, MarketSnare also lets each agent place content on his or her website – to give it that much-desired local feel. Such things as local agent news, photos of local offices, and upcoming local event notices regularly updated help produce high local search engine rankings. And that means each of your agents will be found in their market!
With MarketSnare, your agents get the benefit of location-specific, corporate-directed marketing programs that sell your product nationwide in a consistent, manageable, professionally designed, customizable, and economical way. Contact MarketSnare. We'd love to show you just how this program will work for your agent network.
Have you wanted your local insurance agents to do more of their own online marketing but worried about their ability to stay compliant? MarketSnare can set that worry to rest. And a few others, too!
First of all, MarketSnare lets you give all of your agents an affordable, high-quality website that won't burden them with making administrative changes and updates themselves. From your central MarketSnare command center, you have the authority and ability to…
manage information about your insurance products and services across your entire network of agents
get timely, accurate, and compliant content updates to every agent website all at once or to select websites at the push of a button
personalize each agent website's content with locally relevant information and search terms that localize SEO, keeping you highly visible in each of your markets
determine how much local control you want to give your agents to personalize their own sites and share what makes them a trusted source for insurance-related services in their respective communities
measure the success of your marketing efforts at the agent level as well as network-wide
You'll be impressed – and relieved! – by how easy MarketSnare makes it to do all this. Think of it: you get better control of your brand message, your compliance concerns, and your sales results. And your agents get more local visibility as well as more time to meet with prospects and write new business.