Multi-location Web Presence for Healthcare Organizations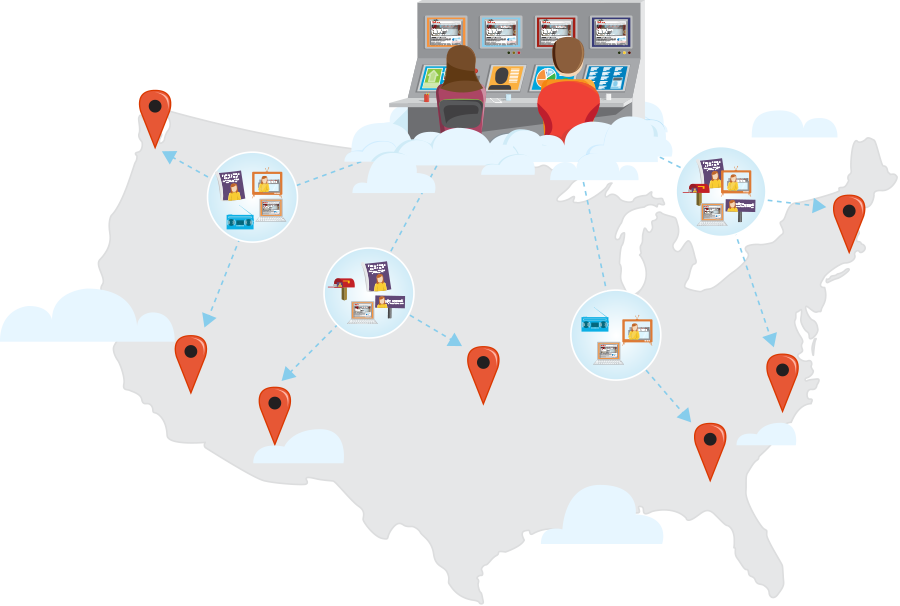 Take advantage of the benefits of local marketing for your multi-location healthcare organization.
Due to many factors, there has been a tremendous amount of consolidation in the healthcare industry over the past several years that has created many multi-location healthcare organizations. Larger healthcare organizations have many advantages but one of the main challenges they face is effectively marketing their organization in each of their local markets. With studies shown that over 97% of people use the Internet to find and evaluate purchase options at the local level, there is a tremendous opportunity for healthcare organizations to improve their marketing and better serve their communities through effective localized marketing programs. People are searching for doctors and specialty practices through local search, evaluating patient care ratings for both facilities and physicians, and talking about their local healthcare on social media. Healthcare is about caring for people and your local community wants to understand their options in a local context. Large corporate websites and social media programs do not provide the local visibility or community relevance that builds local marketing success. The challenge for larger multi-location healthcare organizations has been the lack of tools to scale their local marketing efforts efficiently across multiple markets, physical locations, and physicians in a way that is economical, effective, and compliant. MarketSnare was built to solve these local marketing challenges for Healthcare organizations. MarketSnare is a local marketing automation platform that enables healthcare organizations to centrally create, deploy, and manage local marketing programs for each of their local markets while maintaining strict control of legal compliance and brand standards.
With MarketSnare healthcare organizations can now centrally manage content, promotions, social posts, and digital ads across their entire network with about the same effort as if they were doing it for a single local practice. Our proprietary content localization engines allow you to efficiently personalize each web page, blog post, social post, and digital ad with unique, relevant, and valuable information for each location, practice area, or physician. You now have the tools you need to deliver powerful marketing programs that get proven results. With our platform you can select from a range of local marketing solutions to build a program that's perfect for the unique needs of each local market including:

A localized web presence can help multi-location healthcare organizations overcome local marketing obstacles.
We understand how challenging it is to manage your brand, compliance, and visibility across your network of healthcare campuses. No doubt each campus does a superb job of attending to the needs of its patients. A couple of great questions you should ask, though, is: "How visible are my practice areas, physicians, and facilities in my local market when people are looking for what we provide? " "What is the local reputation of our physicians and facilities in our local community when people look us up?" If you're like many healthcare providers, the answer is, "Not as great as we'd like." That's because too many providers' have no local marketing strategy. If that describes your situation – or you feel your locations/campuses could use some improvement in any event – we have the solution: a local healthcare marketing program for each location/campus that can be centrally managed so you can scale effective localized marketing solutions across all your locations.
What makes this crucial is that today's consumers, to the tune of nearly 97%, search the web for products and services available in their local market. If your campuses don't have a web presence that attracts attention,they aren't getting found by local consumers who could benefit from your healthcare services!
Local healthcare digital marketing programs give you a presence in each of your local markets through a combination of channels consumers are using to get to information including websites, social media, search marketing, physician and faceliftings listings and ratings, and more. They also complement any other marketing techniques you may be using to reach consumers, including local or national marketing campaigns and referrals. To make this work, however, you must have a localized approach that help you and your campuses…
Speak like the locals. Healthcare needs are pretty much alike wherever you go. But different communities have different ways of addressing these needs and speaking about them. What hits home with people in Denver may have no impact whatsoever in Wausau! Local sensibilities are affected by everything from climate to economic conditions. You need to take those sensibilities into account if you hope to talk with local prospects in a uniquely personal and convincing way. Yes, the web does foster a global community. But people still prefer using it to search for local organizations with whom they can do business. A local online marketing approach involving each of your campuses can help you connect.
Provide a hub for local marketing. If you do any national or regional marketing, it pays to tie it in with local online marketing efforts. Directing prospects back to one of your local healthcare web presence in your digital and mass media advertising, print ads, billboards, and direct mailers confers instant credibility on you and each individual campus you operate. This approach also makes it possible for you to track just how effective your campaign elements are in each campus's market. Prospects are shown a direct path to your services, too, and can see your brand in a localized context.
Localize SEO. To achieve greater visibility you need to localize and optimize your local healthcare web presence. That means making sure the content of each is ripe with local geographic terms as well as references to local customs, culture, and activities. Doing so will give your entire organization far more local search visibility than if you just did the conventional thing and listed your individual healthcare campuses on your corporate website.
Connect with local social media. Add local social media activity to your marketing efforts to monitor what the public is saying about your services and engage with them. Sure, you have social media at the corporate level, but people want to engage locally through platforms like Facebook, Instagram and Twitter. Facebook published a study that local social media business accounts outperform central corporate accounts by 345%! We provide tools to manage social media accounts at scale including localized posting, monitoring interactions, mass engagement, and performance reporting.
Manage Your Local Reputation. With all the online healthcare review sites there are today, t is important to know what people are saying about your physicians and facilities and proactively manage perception. Consumers are far less likely to use a provider if they have under a four star rating and people that have had a bad experience are 7 times more likely to post a review than someone with a good experience. With the right tools, you can cultivate good reviews and marginalize the bad ones...which can make a world of difference to your bottom line.
MarketSnare helps you do it all!
With MarketSnare you have a way to control every local healthcare provider digital marketing program in your network of campuses from one central hub. This is, in essence, a turnkey local marketing management system that lets you quickly, easily, and economically…
maintain the consistency of your organization's brand message across every market, and
update web content, social posts, ads, and more on every one of your healthcare locations at the same time
with built in localization and personalization based on the profile of each location.
Though you are the primary "keeper of the keys," each healthcare campus in your network can be given some control of its own local content and marketing program, as you see fit. Allowing each campus to add content such as photos, descriptions of services specific to a campus, local news, and campus activity updates can really boost local relevance and search engine rankings. Each of your locations, practice areas, and facilities will be found by local people looking for the healthcare services you provide!
To discover more of what a Marketsnare local digital marketing program can do for your healthcare organization, contact MarketSnare today.