Local Marketing Solutions for Franchises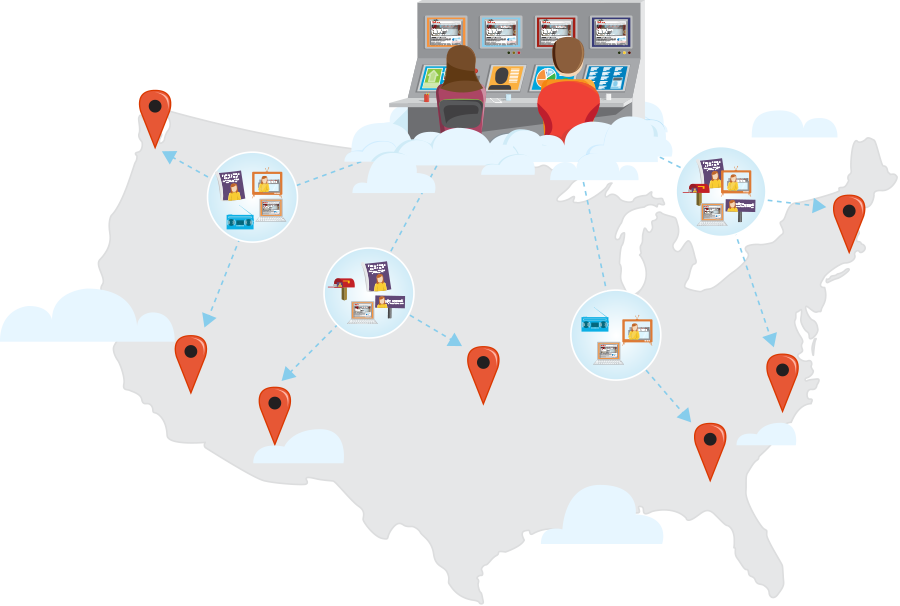 Super charge your local marketing efforts through scalable local marketing programs for your franchisees.
MarketSnare is a local marketing automation platform that enables a franchisor to centrally create, deploy, and manage local marketing programs for each of their local franchises. The MarketSnare platform was developed to address the specific challenges that franchises have in scaling effective local marketing programs across all their locations. With MarketSnare you can ensure brand consistency across all your markets for websites, social media, digital advertising and more.
MarketSnare puts you in the drivers seat so you can coordinate content, promotions, social posts, and digital ads across your entire network with the same effort as if you were doing it for a single franchise. With our content localization engines you can efficiently personalize each web page, blog post, social post, and digital ad with unique, relevant, and valuable information for each location, giving you the tools you need to deliver powerful marketing programs that get proven results. With a MarketSnare local franchise marketing solution you can select from a range of local marketing solutions to build a program that's perfect for the unique needs of your franchise and each local market including:

Scale your marketing efforts across your local franchises easily and with incredible results.
Your market locations are the heart and soul of your business. But if you're like most franchisors, your local franchisees aren't the best digital marketers. They are busy running their business and don't have the time or expertise to be effective at the latest local marketing tactics so important to growing their business. They do more than represent you; they define you in cities and towns across America (and beyond?). You count on them to connect with local customers, and grow in their local market. The question is, how good are they at the kind of marketing that helps you expand your product offerings and your customer base in every market? Empower your network of franchisees with turnkey local online marketing.
An effective local marketing program would allow you to tap into that nearly 97% block of consumers using the web to search for local products and services. If your franchisees don't have an individual local web presence, you can bet they're not getting found by local consumers who are searching for what you offer!
With MarketSnare's local marketing automation platform you and your franchisees will find it much easier to…
Speak the language of the locals - What sells your product or service in San Diego may not win you any converts in Concord! You need a local online marketing approach that takes into account such factors as local expressions, culture, climate, economic conditions, and loyalties. Yes, Google, for instance, knows from where a search is being conducted even if the location isn't specified. Still, franchise web content and social posts that addresses local issues in the local vernacular does a much better job of engaging local residents personally than content with little or no local relevance. And the fact remains that, while consumers use national websites for research, they still prefer buying from local companies in their own area.
Provide a hub for local franchise marketing - However wide your franchise network – national or global – it's absolutely essential to your continued success that you tie every market location into your corporate marketing efforts. When you do this by tagging your radio and TV spots, print ads, billboards, and direct mailers with a local franchise's website address, you accomplish two things: you reinforce your local presence in each market you serve … and you drive traffic to your local franchise websites, where the impact of your marketing can be tracked and measured. Consumers like the local connection, too. You're giving them another opportunity to learn more about you, engage, and establish that crucial local bond.
Localize SEO - Again: the origin of a search is recognized by Google even when a location isn't specified. But if you're serious about capturing a local market, your best bet is to have a local franchise website loaded (sensibly!) with local geographic terms and other such references. Local SEO marketing personalizes and optimizes a website for local search visibility. In the end, it will make your entire organization far more visible than if you were simply to list all of your locations on your corporate website.
Put local social media to work for you - Social media participation is all the rage these days. But it's clearly no fad. That's why so many businesses, large and small, have made social media a significant part of their marketing strategies. You definitely want to connect with customers and prospects through channels like Facebook, Instagram, and Twitter corporately, but local social media marketing for franchises should also include timely responses and engagement locally. This facilitates driving traffic back to local websites, which broadens the opportunities for conversation with your customers. It bolsters your local presence, too, and helps customers relate to you on a far more personal level.
MarketSnare is just the ticket!
As we've said, you need an effective local franchise digital marketing solution. But you also need a quick, easy, and economical way to manage it. MarketSnare lets you do just that from one centralized location. It's a marketing command center from which you can…
exercise network-wide control of your brand standards,
keep product, service, and policy information continually and accurately updated, and
ensure the consistency of your message across every franchise and each local market.
At the same time, you can give each franchise as much control of its own website and marketing content as you think advisable. Giving them some latitude here – letting them add their own photos, franchise location relevant news, activity updates, local promotions, and the like – deepens the local connection and leads to higher local search engine rankings.
In essence, then, MarketSnare gives you and your franchisees local marketing programs that are…
professionally designed and managed,
locally customizable,
very economical, and
relevant and valuable to each local market.
Discover for yourself what a professionally designed and managed, locally customizable, and very economical MarketSnare solution can do for you and your franchise network.Contact MarketSnare today. We've got some great things to show you!