Local Marketing Solutions for Business and Trade Associations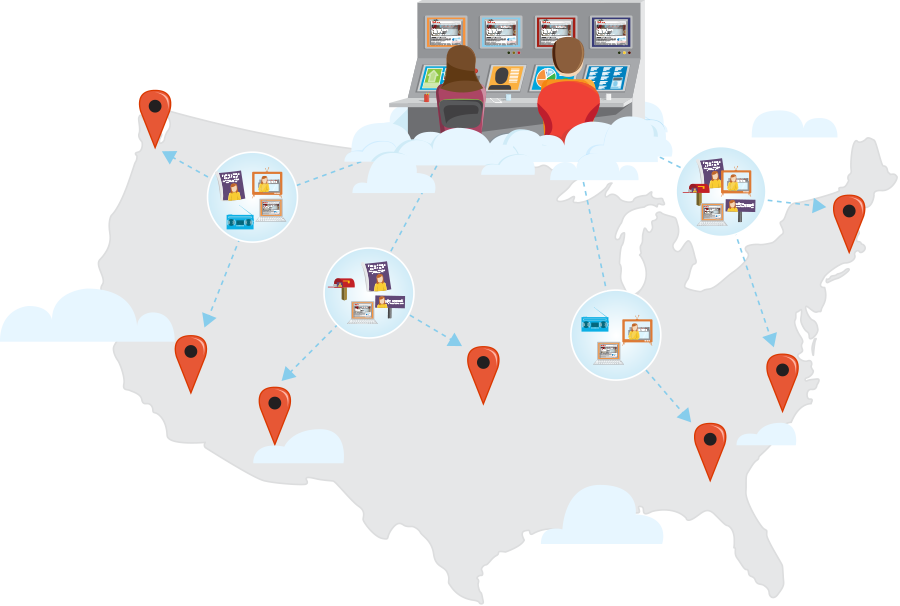 Build value for your association and your membership with highly effective, scalable local marketing programs for your industry.
Trade organizations are all about creating value for their member organizations. What better way to add value to your members than provide trusted and proven local marketing solutions that can help them save money and grow their businesses. Because your member businesses have similar local marketing needs, creating a local marketing program for your industry can take advantage of the collective size and experience of the group to create a local marketing program that encompasses the best practices of the industry and gets better over time. Many associations have attempted to implement marketing programs for their members that have been unsuccessful because the technology didn't exist to effectively manage all the aspects of a local marketing program with the appropriate capabilities, scale and price points to succeed.
MarketSnare was created to solve these challenges. MarketSnare is a local marketing platform that enables you to create, customize, and manage local marketing programs across tens to thousands of local businesses. Our technology makes it possible for you to leverage the collective strength of your association to deliver more efficient and effective local digital marketing programs for your members while creating non-dues revenue streams for the association. Through this approach, the co-op can deliver solutions that are far more comprehensive and produce far better results than what any individual member could afford to do on their own. And what's even better is that it can be done at a cost that is far less than what a local member would pay to develop a basic marketing program on their own.
With MarketSnare's local marketing solutions for business associations you will be able to centrally manage key aspects of the program while providing the local member the ability to manage important aspects of their program. We will work with you to create a flexible marketing program that best meet the needs of your members from a wide range of customizable local marketing solutions including:

Business and trade associations have a tremendous opportunity to turn their industry knowledge and buying power into effective local marketing programs that provide exceptional value to their local members.
Most small businesses that make up the membership of your association do not have the time or the expertise to become great marketers in the digital marketing world we live. According to a recent study, most consumers (97%) go online to research products and services available in their respective localities! Without effective local digital marketing solutions your association members are missing out. Your members aren't getting found by local consumers searching for the products and services they offer!
This is where the power of a business or trade association can help. The association has access to the collective industry knowledge or the entire membership group. The association is uniquely positioned to create great industry related content and marketing strategies that are so critical to the success of local businesses that make up the association. The problem has always been there was no good way to manage all the knowledge and information the association has access to and turn it into an actionable marketing program that could be delivered and customized to members at the appropriate scale.
Marketsnare was create to solve these challenges by providing a platform to create and personalize marketing solutions at scale including solutions like local websites, social media, reviews management, and digital advertising. Each of the local marketing solutions that are a good fit for your membership can be configured for the best practices in your industry, so each member is getting a local marketing solution with the collective thought and expertise of the association.
MarketSnare gives you the means to do it!
With MarketSnare you can manage key aspects of the digital marketing for your entire association member program from one hub. Think of it as a centralized turnkey local marketing management system. At the same time, each local member company will be able to customize its own program to their needs. For a local website for example, this includes such things as photos, descriptions of other products it may carry, news, upcoming event notices, and other items of local relevance. Keeping this content freshly updated translates into high local search engine rankings, too! Result? Each of your members will be highly ranked for a wide range of keywords and geographic terms important to their business. Each member will get the advantage of a well thought our program with templates and industry content with the ability to customize their own marketing to their own needs, saving them time, money, and significantly improving results.
Contact MarketSnare. We'd love to show you just how this program will work for your trade association.